Zohre
Zohre was born and raised in a family full of love in a small town in Iran. I grew up with many cousins and relatives. I left my parents' home soon after finishing the high school to Europe. Something that was not so common to do it.
 That time, Zohre was the first girl of the town to leave country abroad to study and fulfil her family's dreams. "I went further and further and did my PhD in Japan.
 Over curiosity of people about Iran, a country on the headers of news was often frustrating for Zohre, but at the same time being in a diverse environment made Zohre's life more vital. "It made me more open, dialed down the fear of "the other" that kept me from feeling at home on earth. Diversity gave me a chance to increase my personal resilience and embrace myself even more. It made me not compare myself with others around and feeling I am the star of my own life".
 Life is challenging, but beautiful. Don't have a fear of taking any steps toward a better life, a diverse life. I hope by reading this story many women let go of the doubts, fears, and comparisons in order to experience what the life has presented to us at this very moment.
Features
Pierre Gemme by HUR
HAND-MADE
Our craftsmen and craftswomen use non-ferrous metals like bronze, brass and copper to make handcrafted pieces.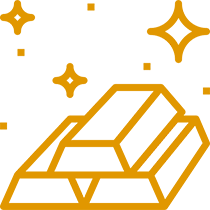 GOLD PLATED
Our jewelry is 22k gold plated and made with fine brass.
EVERY PIECE IS A STORY
Each piece tells a story. We create innovative designs, inspired by prominent female figures and moments of history.
WARRANTY
We offer 2 months warranty for any plating and breakage.
DONATE
We believe that every contribution counts to help those in need. We giveback a percentage of sales to non-profits and individuals, usually targeting women.
WOMAN-2-WOMAN
We are 100% women-led and sisterhood is our creed.