Collection:

INGASO - by HUR x WURIE
Ingaso, in Swahili means the Break of Dawn. With this collection, we honor the innate power of black and brown women globally, rising in the face of insurmountable challenges. From racial injustice, economic depravity, a global pandemic, political turmoil and more, women's capacity to uphold their families and communities are relentless. With each new day given, seen and felt, your power awakens to shift, shape and change the world. We thank you, we celebrate you, we adorn you, we see you. Thank you for choosing to live and thrive, at the break of every dawn.
Each piece from this collection is inspired by East-Asia and West Africa, with influences from both continents at large. You are the muse that infuses each piece in celebration of all women.
Features
Pierre Gemme by HUR
HAND-MADE
Our craftsmen and craftswomen use non-ferrous metals like bronze, brass and copper to make handcrafted pieces.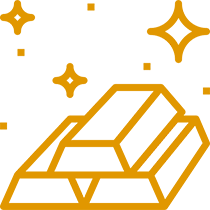 GOLD PLATED
Our jewelry is 22k gold plated and made with fine brass.
EVERY PIECE IS A STORY
Each piece tells a story. We create innovative designs, inspired by prominent female figures and moments of history.
WARRANTY
We offer 2 months warranty for any plating and breakage.
DONATE
We believe that every contribution counts to help those in need. We giveback a percentage of sales to non-profits and individuals, usually targeting women.
WOMAN-2-WOMAN
We are 100% women-led and sisterhood is our creed.