Stories create connections. Stories have power – they move us, inspire us and make us feel alive.
Pierre Gemme by HUR is a feminist storytelling jewelry concept from Pakistan. We create affordable, innovative and expressive jewelry designs celebrating women of color. Each jewelry piece has a story and carries the beauty and history of women from the Mughal, Persian, Ottoman Byzantine and ancient eras. Stories of women with different identities, roots, beliefs and cultures who come together and tell stories of resilience, create affirmations.
We design statement and minimalist pieces which are unique, versatile and impactful.   When you wear the piece it cannot be overlooked, and through the powerful stories it becomes an extension of your own personal style and story. We hope these designs and stories of women become a collective catharsis for all those looking for inspiration and empathy and build a collective movement of women supporting and uplifting each other.
Founded by three sisters, also known as the HUR sisters – Hina the creative designer and a dentist; and Hira and Hajra, development professionals and entrepreneurs with a high propensity to be inspired, make connections and easily find sources of interest and joy in people and activities.
Pierre Gemme by HUR is proud to create employment and skill building opportunities for female artisans from impoverished backgrounds in Pakistan. Pierre Gemme by HUR is based in Lahore, Islamabad and Cairo. Our jewelry is worn by women of color in over fifty countries.
Our motivating force is all the incredible women who give us strength, inspiration and desire to do, create & tell stories. Check out our Instagram @pierregemmebyhur to read stories of inspiring women we profile all over the world.
With Love
Hira, Hajra and Hina
Hina' Vision
"I'm aesthetically fascinated by ancient old empires from the Mughal, Persion, Byzantine eras- my vision is to transform, re-create and combine the art of jewelry making and make them come to life in present times"
Hajra's Vision
"Some of the most important conversations I've had are with unknown and kindred strangers that created inspiration and ripple effects in my own life - My vision is to discover incredible stories that create powerful connections and conversations whose impact go deeper and bigger like a social enterprise"
Hira's Vision
"I have grown up witnessing 'people power' to scale any work or product that has created a positive impact. My vision is to create a global community of do-ers who are driven by a shared value of human development"
Features
Pierre Gemme by HUR
HAND-MADE
Our craftsmen and craftswomen use non-ferrous metals like bronze, brass and copper to make handcrafted pieces.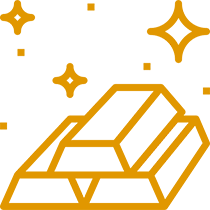 GOLD PLATED
Our jewelry is 22k gold plated and made with fine brass.
EVERY PIECE IS A STORY
Each piece tells a story. We create innovative designs, inspired by prominent female figures and moments of history.
WARRANTY
We offer 2 months warranty for any plating and breakage.
DONATE
We believe that every contribution counts to help those in need. We giveback a percentage of sales to non-profits and individuals, usually targeting women.
WOMAN-2-WOMAN
We are 100% women-led and sisterhood is our creed.