Pierre Gemme by HUR
At Pierre Gemme by HUR we honor the innate power of women globally. We create affordable, innovative and expressive jewelry designs. Each piece has a story and carries the beauty and history of women from the Mughal, Persian, Ottoman Byzantine and ancient eras. When you wear our pieces it cannot be overlooked, and through the powerful stories it becomes an extension of your own personal style and story. We hope these designs and stories of women become a collective catharsis for all those looking for inspiration and empathy and build a collective movement of women supporting and uplifting each other.
Learn more here
Features
Pierre Gemme by HUR
HAND-MADE
Our craftsmen and craftswomen use non-ferrous metals like bronze, brass and copper to make handcrafted pieces.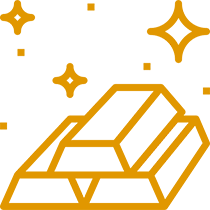 GOLD PLATED
Our jewelry is 22k gold plated and made with fine brass.
EVERY PIECE IS A STORY
Each piece tells a story. We create innovative designs, inspired by prominent female figures and moments of history.
WARRANTY
We offer 2 months warranty for any plating and breakage.
DONATE
We believe that every contribution counts to help those in need. We giveback a percentage of sales to non-profits and individuals, usually targeting women.
WOMAN-2-WOMAN
We are 100% women-led and sisterhood is our creed.
Follow Our Stories On Instagram
Instagram
@pierregemmebyhur
Every piece
has a story