How do I return or exchange an item I bought online?
If it's too big, too bright, or just not you, we're happy to help you return or exchange your purchase. If you are not satisfied with your purchase, please return it for a refund or exchange within 14 days of the date of order placement. Returned items need to be in their original condition without signs of wear, damage, or alteration. This includes boxes in which the order came in. Unfortunately, we can't accept returns any other way. Contact us on info@sisterhur.com for any queries
Please note unwanted item(s) have to be returned undamaged, unworn and in their original packaging and shipped back to us at your own expense.  If any order items are damaged during transit contact us immediately for assistance within 14 days. We are not responsible for lost or stolen.
Features
Pierre Gemme by HUR
HAND-MADE
Our craftsmen and craftswomen use non-ferrous metals like bronze, brass and copper to make handcrafted pieces.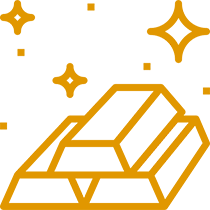 GOLD PLATED
Our jewelry is 22k gold plated and made with fine brass.
EVERY PIECE IS A STORY
Each piece tells a story. We create innovative designs, inspired by prominent female figures and moments of history.
WARRANTY
We offer 2 months warranty for any plating and breakage.
DONATE
We believe that every contribution counts to help those in need. We giveback a percentage of sales to non-profits and individuals, usually targeting women.
WOMAN-2-WOMAN
We are 100% women-led and sisterhood is our creed.