At Pierre Gemme by HUR we are constantly looking for women that have an extraordinary story to tell. We believe that telling and hearing stories is the most powerful mean to inspire others. We'd love to hear your story. If your story stands out, we'll contact you.
Don't be shy, and never underestimate the power of your story :)
Submit your story below
Features
Pierre Gemme by HUR
HAND-MADE
Our craftsmen and craftswomen use non-ferrous metals like bronze, brass and copper to make handcrafted pieces.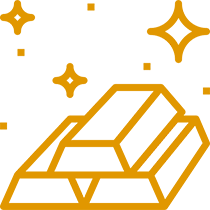 GOLD PLATED
Our jewelry is 22k gold plated and made with fine brass.
EVERY PIECE IS A STORY
Each piece tells a story. We create innovative designs, inspired by prominent female figures and moments of history.
WARRANTY
We offer 2 months warranty for any plating and breakage.
DONATE
We believe that every contribution counts to help those in need. We giveback a percentage of sales to non-profits and individuals, usually targeting women.
WOMAN-2-WOMAN
We are 100% women-led and sisterhood is our creed.