Taking care for
YOUR PIERRE GEMME BY HUR PIECES
Store your jewellery in the closed box when not in use.
To clean your jewellery, please rub gently with a soft lint free cloth.
Pierre Gemme jewelry is made of fine brass and are gold and silver plated. These materials naturally tarnish with the exposure to air such as, moisturiser, make up, hairspray, perspiration, household cleaning products, chlorine and salt.
Please avoid exposing your jewellery to these conditions and always remove before washing clothes, swimming, taking a shower to extend your jewellery's life.
Do not put your jewellery pieces in direct contact with any chemicals such as cleansers, perfumes, etc.
The metal may get oxidised overtime and turns black especially when it gets wet. We offer a re-polishing service if needed.
Features
Pierre Gemme by HUR
HAND-MADE
Our craftsmen and craftswomen use non-ferrous metals like bronze, brass and copper to make handcrafted pieces.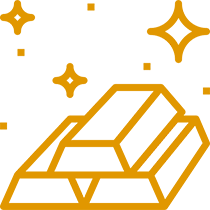 GOLD PLATED
Our jewelry is 22k gold plated and made with fine brass.
EVERY PIECE IS A STORY
Each piece tells a story. We create innovative designs, inspired by prominent female figures and moments of history.
WARRANTY
We offer 2 months warranty for any plating and breakage.
DONATE
We believe that every contribution counts to help those in need. We giveback a percentage of sales to non-profits and individuals, usually targeting women.
WOMAN-2-WOMAN
We are 100% women-led and sisterhood is our creed.