Vania Santoso
Vania Santoso - a social innovator and an eco-fashion enthusiast and the bright young entrepreneur in the list Forbes 30 under 30 2021.
 Vania has been an environmental advocate from the age of 12. Sixteen years later, Vania has come a long way from simply being an excited kid to becoming an influential female eco-warrior promoting a green lifestyle, environmental sustainability and community empowerment in Indonesia – heySTARTIC – a social innovation enterprise focused on community development to produce innovative upcycled products.
 Vania and her sister Agnes Santoso started their mission to protect their community environment when their house was flooded due to the environmental mismanagement. She first started a youth-led foundation with a home-waste management social project. Their work on environmental education was then featured on Asian's of The Year 2009 from Channel News Asia and acknowledged through a Satyalencana Wirakarya medal from the President of Indonesia. In 2019, Vania was selected as a Green Ticket winner by UN Foundation, presenting heySTARTIC at the United Nations Youth Climate Summit.
 "I brought a variety of upcycled products (products made from recycled materials) which sold out there. However, when I returned to Indonesia, it turns out no one wants to buy that same upcycled product because the consumer behavior is different. From that moment, I learned more about business and innovation of recycled products in order to make environmental education more compelling," she said.
 heySTARTIC holds a value: Artistic outside, Ethical inside.
Features
Pierre Gemme by HUR
HAND-MADE
Our craftsmen and craftswomen use non-ferrous metals like bronze, brass and copper to make handcrafted pieces.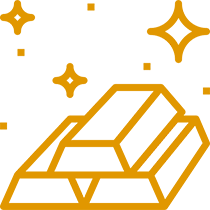 GOLD PLATED
Our jewelry is 22k gold plated and made with fine brass.
EVERY PIECE IS A STORY
Each piece tells a story. We create innovative designs, inspired by prominent female figures and moments of history.
WARRANTY
We offer 2 months warranty for any plating and breakage.
DONATE
We believe that every contribution counts to help those in need. We giveback a percentage of sales to non-profits and individuals, usually targeting women.
WOMAN-2-WOMAN
We are 100% women-led and sisterhood is our creed.