Taiko
'I grew up in Sendai, Japan, where the role of women in society was guided by traditional culture. Women were often expected to become good wives and to support their families and husbands, with relatively few of them pursuing long-term careers'
I was fortunate that my parents encouraged me to study at a good university in Tokyo, even if their expectations of me remained fairly traditional; and I had a strong female role model in my aunt who, unusually in the Japanese context, worked her entire life. However, it was living and working internationally that really gave me the opportunity to rethink some of my values, and to become independent and confident in my own strengths and my ability to make real change. Through the last 13 years I have been working in international humanitarian and development operations, and have lived in Venezuela, Peru, Uganda, Peru, Malawi, the US, Egypt and Kenya.
In Venezuela, which was the first country I lived in, I had a conversation that led me to recognize for the first time a sense of my human rights as a woman. A female French housemate told me that controlling our lives by ourselves, making decisions and taking positive and proactive action were the rights of women as well as men. Having never before thought about my rights as a woman, I was struck by the views she held and by her independence.
In Sudan, I worked in rural South Darfur. I enjoyed interacting with the women who came to the training sessions, whose livelihoods were based on growing and selling vegetables. Some invited me to their houses, shared new ideas, and I was delighted to hear and feel their hopes of changing Sudanese society, following the 2019 revolution.
In these moments, I began to understand that my upbringing and the values instilled in me were just one way I could choose to live my life, amongst thousands of other pathways. I continue to learn that lesson which have helped me pause and reflect on what it means to be a woman in a working environment where lives, and careers, are sometimes driven by things above our control.
Features
Pierre Gemme by HUR
HAND-MADE
Our craftsmen and craftswomen use non-ferrous metals like bronze, brass and copper to make handcrafted pieces.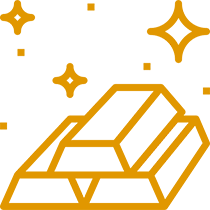 GOLD PLATED
Our jewelry is 22k gold plated and made with fine brass.
EVERY PIECE IS A STORY
Each piece tells a story. We create innovative designs, inspired by prominent female figures and moments of history.
WARRANTY
We offer 2 months warranty for any plating and breakage.
DONATE
We believe that every contribution counts to help those in need. We giveback a percentage of sales to non-profits and individuals, usually targeting women.
WOMAN-2-WOMAN
We are 100% women-led and sisterhood is our creed.