Shahana Jan
The year 2019 connected us to beautiful women all over the world. Women who supported us and valued our tremendous time, thought, and vision in keeping this labor of love going. Your stories created connections. It moved us, inspired us and make our pieces come alive
By connecting to you we have come to know that there is something deeply transformative about jewelry. Statement pieces all play into cultivating a personal sense of style that is unique to you. Our plans as we move into 2020?? - hint: regal, minimalist, colors, big and bold! .
One such connection 2019 brought us is the beautiful Shahana Jan. We are continually fascinated by people like Shahana who have curated, and created countless things. Shahana is a Pakistani actress based in New York City. Shahana began her career in the theatre in Islamabad at the age of 16. With her career in the entertainment industry spanning over a decade in various countries. Shahana wrote and performed an original piece 'The Miracle Child' telling the story of what it means to be an immigrant in America.
Shahana's content is a record of her own becoming as a person — intellectually, creatively, spiritually. Shahana's powerful 'Ode to 2019' speaks to all of us. Her words are soft nostalgic one, where things slow down enough to give us some time to process the ride the past year has been. The thoughts that have locked us into a sense of falling short and the fear that we are not enough. She helps us answer, directly or indirectly that grand question of how to live and what it means to live a meaningful life and to live well as we move to 2020. What are your top 3 learnings from 2019? .
May 2020 be the year of radical acceptance for all of us
'It's here in all the pieces of my shame
That now I find myself again
I yearn to belong to something, to be contained.
In an all-embracing mind that sees me'
A poem by Rainer Maria Rilke
Shahana in Labyrinth
Features
Pierre Gemme by HUR
HAND-MADE
Our craftsmen and craftswomen use non-ferrous metals like bronze, brass and copper to make handcrafted pieces.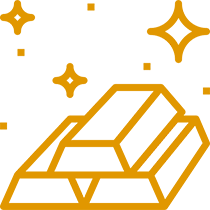 GOLD PLATED
Our jewelry is 22k gold plated and made with fine brass.
EVERY PIECE IS A STORY
Each piece tells a story. We create innovative designs, inspired by prominent female figures and moments of history.
WARRANTY
We offer 2 months warranty for any plating and breakage.
DONATE
We believe that every contribution counts to help those in need. We giveback a percentage of sales to non-profits and individuals, usually targeting women.
WOMAN-2-WOMAN
We are 100% women-led and sisterhood is our creed.