Rachel Varghese
'Without music life would be a mistake' Nietzsche said in the 18th century: Appearances can be deceiving and, in the case of musician Rachel Varghese, infinitely so.
When the lithesome singer steps on stage, one expects to hear something soft and sweet, but Rachel surprises and then enthrals her audience with her deep, powerful voice and soulful voice.
#Mumbai based Rachel Varghese is a singer-songwriter with a wide range of musical influences ranging from the indie, jazz, blues, neo soul etc. You have to hear her to believe how soulful she is ! .
Apart from various collaborations with artists she has also lent her voice to a number of jingles , voice overs and Bollywood films like NH10 , Shaandaar, Margarita with a straw and Befikre . Drawing from a wide range of influences, this music chameleon skillfully changes her tune depending on who she's playing with and for.
Apart from music, Rachel also dabbles in modeling, acting, art and travel. For every time you need some comfort , nice gentle sound to your ears, uplifting during heart breaks, it's safe to say that Rachel can be the voice that voice.
Rachel is wearing our Signature piece.
Features
Pierre Gemme by HUR
HAND-MADE
Our craftsmen and craftswomen use non-ferrous metals like bronze, brass and copper to make handcrafted pieces.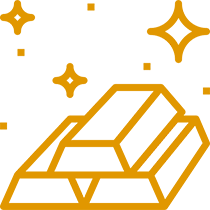 GOLD PLATED
Our jewelry is 22k gold plated and made with fine brass.
EVERY PIECE IS A STORY
Each piece tells a story. We create innovative designs, inspired by prominent female figures and moments of history.
WARRANTY
We offer 2 months warranty for any plating and breakage.
DONATE
We believe that every contribution counts to help those in need. We giveback a percentage of sales to non-profits and individuals, usually targeting women.
WOMAN-2-WOMAN
We are 100% women-led and sisterhood is our creed.