Naza Alakija
We are so privileged to meet and cross our paths with amazing women who are changing the world one step at a time.
Introducing Nazanin Alakija, from Iran - a fierce advocate, entrepreneur and changemaker working on building tech solutions to fight climate change.
Climate change, ecological disruption what does it mean? Changes in our climate is resulting in decline in agriculture production affecting livelihoods of farmers, creating a surge in food prices which in turn causes the poorest families to go hungry. Children suffer the most resulting in malnourishment affecting their growth and development.
Naza is fighting this in a unique way, by empowering entrepreneurs to build and scale technology solutions in the fight against climate change through her social enterprise Social Accelerator for A Green Economy (SAGE) Innovation Center.
She is a prominent climate change strategist supporting organizations such as #UNICEF . Most recently Naza invested in the development of solar panelled boreholes through in different parts of Borno State in North East #Nigeria .
Naza in her own words about personal and professional challenges: 'Self-growth - It is by far one of the most difficult challenges we face in life. But once we do, it is by far the most rewarding experience. Getting comfortable with failure. I used to be so scared to fail. But I have come to realise that in the most testing times are the greatest seeds of growth'. ''We are ultimately the first generation to feel the negative impacts of climate change and the last to be able to do anything about it"
Naza in Gulestan.
Features
Pierre Gemme by HUR
HAND-MADE
Our craftsmen and craftswomen use non-ferrous metals like bronze, brass and copper to make handcrafted pieces.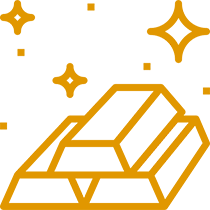 GOLD PLATED
Our jewelry is 22k gold plated and made with fine brass.
EVERY PIECE IS A STORY
Each piece tells a story. We create innovative designs, inspired by prominent female figures and moments of history.
WARRANTY
We offer 2 months warranty for any plating and breakage.
DONATE
We believe that every contribution counts to help those in need. We giveback a percentage of sales to non-profits and individuals, usually targeting women.
WOMAN-2-WOMAN
We are 100% women-led and sisterhood is our creed.