Marziyya Malik
To be an artist is to have a certain orientation to the interior and the exterior world — the exact composition of which is somewhat like temperature, impossible to deconstruct into individual phenomenological components without ceasing to be itself. Introducing Artist and Entrepreneur Marziyya Malik.
'I seek colours and they seek me. I express them through my living, painting, food and work. Many a times I challenge myself with the best and give it my best to make it as it was intended'
Marziyya published poetry at 9, wrote blogs at 15, country reports with world's leading international organization at 25, and co-founded a business at 29. Amidst job descriptions and work plans, she finds her escape in colours and flavours. 'It's what Julie said 'I love that after a day when nothing is sure and when I say nothing, I mean nothing. You can come home and absolutely know that if you add egg yolks to chocolate and sugar and milk, it will get thick. It's beautiful' and I think it's the same for me on canvas and in spaces. You throw just the right colours and the world brightens up'. I didn't go to an art school and culinary schools said I was overqualified. I'm self and internet taught when it's about the two' . P.S. thank you Pierre Gemme by HUR for featuring my work on your beautiful jewellery. Thank you all for reading and now lend your ears for the earrings.
Marziyya, recently co-founded and launched an innovative co-working space called The Great Red Spot inspired by the largest storm in the Solar System that has been going on for hundreds of years on Jupiter.
As an artist and entrepreneur Marziyya believes that community in Islamabad needs to be awakened, to be immersed in the force of fast-paced culture of work, collaboration, inspiration and creativity. The Great Red Spot aims to strengthen Islamabad as a community by becoming a center of attraction and engagement for adults and children, professionals and non-working individuals, artists and corporates. A place lovingly built over the past many months - one that has become my repository of colours in so many ways beyond canvas.
Marziyya in Mount Marzipan.
Features
Pierre Gemme by HUR
HAND-MADE
Our craftsmen and craftswomen use non-ferrous metals like bronze, brass and copper to make handcrafted pieces.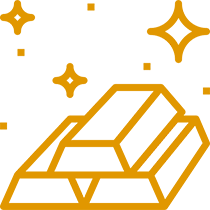 GOLD PLATED
Our jewelry is 22k gold plated and made with fine brass.
EVERY PIECE IS A STORY
Each piece tells a story. We create innovative designs, inspired by prominent female figures and moments of history.
WARRANTY
We offer 2 months warranty for any plating and breakage.
DONATE
We believe that every contribution counts to help those in need. We giveback a percentage of sales to non-profits and individuals, usually targeting women.
WOMAN-2-WOMAN
We are 100% women-led and sisterhood is our creed.