Marie Kunimatsu
'I knew from my own life experience that when someone shows genuine interest in your learning and development, even if only for ten minutes in a busy day, it really matters. It matters especially for women, for minorities, for anyone in a society that is quick to overlook'. 
Introducing Marie Kunimatsu. She grew up in Kamakura, a seaside city just south of Tokyo. An exception to the norm at a very young age, always questioning the status quo, challenging the system. Marie went to a Christian school, where she was taught the values of Mother Teresa. . "I remember in my 4th grade English class, my teacher concluded the class with a comment that there were children suffering in the world and didn't have the opportunity to study like we did, so we should have been happy' –This comment didn't settle well and I raised my hand and asked, 'How can we be happy knowing that children are suffering and we are not doing anything about it?"
At 14 years of age, Marie had a chance to listen to Ms Sadako Ogata during a school visit. Sadako Ogata was one of the few leading female diplomats from Japan in those times, served as previous Head of UNHCR. "During the session our teachers selected all the good students to ask her a question. I was not an A grade student, so I was not selected. I still raised my hand and, as the teachers panicked, Sadako San gave me an opportunity to ask her a question. I asked her 'how can we be happy knowing that children are suffering in the world? And, what can I do in the future to make the situation better? Sadako San shared her experience, her wisdom, and told me to educate myself, do good work, and prepare myself to become someone who can contribute.
Taking inspiration from Sadako Ogato, Marie completed her degree at Sophia University, where Sadako taught. Marie entered the development sector and worked with World Bank, and later as an academic in Japan. Currently, Marie works with UNICEF and she is helping to create a secure and stable learning environment for refugees and migrant children.
Marie in Ra- The Sun God
Features
Pierre Gemme by HUR
HAND-MADE
Our craftsmen and craftswomen use non-ferrous metals like bronze, brass and copper to make handcrafted pieces.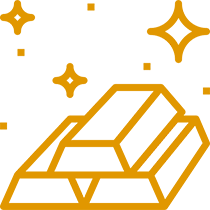 GOLD PLATED
Our jewelry is 22k gold plated and made with fine brass.
EVERY PIECE IS A STORY
Each piece tells a story. We create innovative designs, inspired by prominent female figures and moments of history.
WARRANTY
We offer 2 months warranty for any plating and breakage.
DONATE
We believe that every contribution counts to help those in need. We giveback a percentage of sales to non-profits and individuals, usually targeting women.
WOMAN-2-WOMAN
We are 100% women-led and sisterhood is our creed.