Maree Bouterakos
The COVID-19 pandemic has put our life on pause, and almost everyone is now enrolled in a de facto cooking course
Food is the universal connector and for many, deeply personal. Food is about intimacy, connection, creativity, appetites, deep rich culture, and the joys of being alive – all together
Introducing Maree Bouterakos ,from Melbourne, Australia with Greek heritage. As a Greek-Australian, food is so much more than just sustenance – it's about culture, comfort, family and life itself. Maree has always been interested in food, nutrition and cooking since a young child. Growing up in a Greek household, where good quality food was important, and cooking meals from scratch with her family and sharing the meal together were deeply fulfilling and nurturing.
Maree grew up on a farm in Melbourne and almost everything she ate her family grew and reared themselves, from fruit, vegetables, animals, olive oil and so much more. "I lived with my grandparents who managed the farm. It was through them I learnt about growing food and food value chains"
This motivated Maree to become a dietitian where she developed a solid understanding of all the enables and barriers people face when making food choices, and all the factors that influence one's food choices. Maree now applies this knowledge in her position in one of the world's largest humanitarian organizations, working with communities to improve nutrition and build resilience, the United Nations World Food Programme .
During pandemic times, Maree has been isolated in Rome, Italy. "I have continued my love for cooking and when possible, I have shared this with others, which has been a saviour for me as a way to reconnect with food"
Once life recovers, we will go back to our previous ways, but our taste buds will have experienced a reboot and our hands would have acquired a crafty skill. Family ties would have strengthened for most of us (online or offline). There will be many lessons learnt from this pandemic, but we would be perceptive not to forget this one. Cooking as a reviving proficiency of history, culture and connection has been lifesaving
Maree is wearing Pierregemme by HUR Minimalist sunflower 🌻
Features
Pierre Gemme by HUR
HAND-MADE
Our craftsmen and craftswomen use non-ferrous metals like bronze, brass and copper to make handcrafted pieces.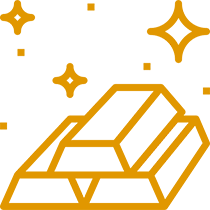 GOLD PLATED
Our jewelry is 22k gold plated and made with fine brass.
EVERY PIECE IS A STORY
Each piece tells a story. We create innovative designs, inspired by prominent female figures and moments of history.
WARRANTY
We offer 2 months warranty for any plating and breakage.
DONATE
We believe that every contribution counts to help those in need. We giveback a percentage of sales to non-profits and individuals, usually targeting women.
WOMAN-2-WOMAN
We are 100% women-led and sisterhood is our creed.