Khalida Brohi
Baluchistan is the largest province in land area in south west Pakistan but is the least populated. It is special to us, the Hur sisters, founders of Pierre gemme by HUR , born and bred in Quetta, where every mountain surrounding the city hides a volcano. To us it's a land enriched with unique traditions, arts and culture. The incredible remnants of Balochistan's diverse and extensive past emphasises its history and it's people.
One incredible woman from Balochistan is Khalida Brohi, Pakistani women's rights activist and a social entrepreneur from an indigenous tribe, Brahui.
When Khalida Brohi was very young, her parents moved from the mud home which they enjoyed with extended family in Kotri to the city of Hyderabad where they lived in a slum community, earning average of $6 per month. The family grew and moved many more times, eventually landing in the slums of Karachi where Khalida continued her education. She had planned to study and become a doctor, when an event changed everything.
Khalida witnessed the honor killing of her friend, who had married for love. The experience led and inspired her to found Sughar foundation, a nonprofit for women in rural areas which empowers women to gain employability skills. She wrote a memoir 'I Should have honor' , a moving story depicting what is possible no matter the odds . 'Khalida Brohi understands the true nature of honor. She is fearless in her pursuit of justice and equality."—Malala Yousafzai, winner of the Nobel Peace Prize
She continues her work as an entrepreneur and an activist in Pakistan and USA and also the founder of @thechaispotnyc in Newyork with her husband, Daud Darius . Khalida is currently a member of Prime Minister's National youth council in Pakistan, has made to the list of 30 under 30 in Forbes, Has also been a member of MIT Media Lab. Khalida Brohi succeeded in her efforts to make the women from Balochistan earn for their living - 'Not doing this work would kill me. Doing this work would keep me alive." - Thank you Khalida, this piece was designed to honour Khalida , and we introduce you 'Char gul' on her 30th birthday today.
Khalida in Char Gul. 
Features
Pierre Gemme by HUR
HAND-MADE
Our craftsmen and craftswomen use non-ferrous metals like bronze, brass and copper to make handcrafted pieces.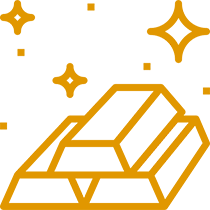 GOLD PLATED
Our jewelry is 22k gold plated and made with fine brass.
EVERY PIECE IS A STORY
Each piece tells a story. We create innovative designs, inspired by prominent female figures and moments of history.
WARRANTY
We offer 2 months warranty for any plating and breakage.
DONATE
We believe that every contribution counts to help those in need. We giveback a percentage of sales to non-profits and individuals, usually targeting women.
WOMAN-2-WOMAN
We are 100% women-led and sisterhood is our creed.