Ilaria Borromeo
Horses are human whisperers. They help us better relate to our own kind. Ilaria found her wonder and life lessons in listening to horses.
Ilaria has been riding horses for over 15 years - "I've always said that my best teachers are horses. In that space between my world and theirs, I learned about relating to one another with a language, which had its own communication, boundaries, emotional equivalence and created safety and trust. We developed a relationship where we knew when the other was tense and what was needed for reassurance, to reestablish the calm and connection to be with each other and flow together. Our relationship was co-creative and that felt like a poetry"
"Look over the fence" - one of my most important life lessons. When you look over the fence, you are already over the fence. Both you and the horse are not hesitant or scared to jump. I try to apply this lesson to most of the experiences of my life: for example, when relocating to another country and leaving my comfort zone, my beloved Italy, my family. When I accepted to move to the Netherlands, and a few years later to Switzerland, I looked over the fence. I was already there, without hesitation, not scared but present. From moment to moment, ready to take on any challenge".
Ilaria works in the world's largest and innovative confectionery company in France. "It's no wonder I was led to the horse: it became my portal - a living, breathing, responsive, loving portal that is capable of bringing healing and reawakening..."
Features
Pierre Gemme by HUR
HAND-MADE
Our craftsmen and craftswomen use non-ferrous metals like bronze, brass and copper to make handcrafted pieces.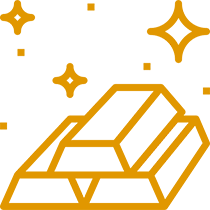 GOLD PLATED
Our jewelry is 22k gold plated and made with fine brass.
EVERY PIECE IS A STORY
Each piece tells a story. We create innovative designs, inspired by prominent female figures and moments of history.
WARRANTY
We offer 2 months warranty for any plating and breakage.
DONATE
We believe that every contribution counts to help those in need. We giveback a percentage of sales to non-profits and individuals, usually targeting women.
WOMAN-2-WOMAN
We are 100% women-led and sisterhood is our creed.