Hajra Hur
Hajra, one of the 3 co-founders at Pierre Gemme by HUR.
 Hajra grew up in Quetta, Pakistan with an intellectual feminist father who taught her what it means to be human, and a fierce mother with deep-rooted resilience and drive. "This combination of both softness and fierceness is what us three sisters took to heart and head. I became involved in youth activism at an early age inside and outside Pakistan and got exposed to powerful change-makers. Then onwards, my life has been focused on working with international organizations & start-ups creating solutions which tackle complex, global humanitarian problems"
 I have a signature of my late father on me who always reminded me of my power in good and bad times. I lost my father 6 years ago. He was a refuge for deep thought, for art, for softness and connection, for expression of love. I carry his power in my quiet reverence for poetry, my sense of justice and righteous honesty, independence, my curiosity and sense of adventure, the creative place I go when I am feeling safe, dwelling in the beauty of expression.
 When I think of the trailblazing women in my life I think of power and I think of sisterhood, which is so profound, so touchable in ways, chasing the positive in the face of fear, uncertainty, and fatigue. It's an inspiration to watch and learn. Not only of "getting things done" but also of building deeper power—in our own self-confidence, our love of our hearts and bodies, our calm in times of difficulties.
 By reading this, I hope you are reminding yourself of your power in each moment especially in those times filled with anxiety or future ruminations. I hope you can explore the parts of your power you may be less familiar with a welcoming and accepting sisterhood. I hope you remember your power as a product of other people coming in and infusing their own life into you to keep going
 My hopes and vision for life is to continue discovering and sharing incredible stories that create powerful connections and conversations whose impact go deeper and bigger.
Features
Pierre Gemme by HUR
HAND-MADE
Our craftsmen and craftswomen use non-ferrous metals like bronze, brass and copper to make handcrafted pieces.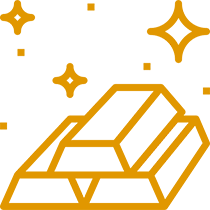 GOLD PLATED
Our jewelry is 22k gold plated and made with fine brass.
EVERY PIECE IS A STORY
Each piece tells a story. We create innovative designs, inspired by prominent female figures and moments of history.
WARRANTY
We offer 2 months warranty for any plating and breakage.
DONATE
We believe that every contribution counts to help those in need. We giveback a percentage of sales to non-profits and individuals, usually targeting women.
WOMAN-2-WOMAN
We are 100% women-led and sisterhood is our creed.