Fanta Dara Keita
'Who am I', 'Why am I here' and 'What is my purpose' are questions we all ask ourselves.
Born in Ukraine to a Ukrainian mother and Guinean father in the late 90s where interracial relationships, let alone mixed children, were definitely not the norm in a post-Soviet era nation. Fanta's childhood was split across Ukraine, Guinea, Ivory Coast, Liberia, the UK and Egypt. After her parents divorced, Fanta's mother remarried a European man and she was soon joined by a beautiful sister
Growing up in such a loving family in a multicultural, international environment gave Fanta insights and opened her eyes to different ways of life. At the same time, growing up as person of colour exposed her to the consequences of people's ignorance, and hatred. As a result, identity and self-acceptance ended up being concepts she struggled with. She spent years letting other people's words, beliefs and judgements guide her emotions and self-belief.
For the first time ever, Fanta caught herself in moments of bliss. "Moments of faith in the inherent divinity of my existence. Moments of love and gratitude for everything in my life - good or bad! Moments of self-acceptance. And with these moments I am finally able to find strength in my identity as ME".
"With this faith, I feel like I have the world at my fingertips and anything I could ever want within reach. This faith is what guides my every breath"
She used to be a little girl that didn't feel loved, didn't feel deserving or that she belonged. Today, she's blossomed into a woman ready to serve the world, knock-down preconceived notions of 'the way things are done' and show other children that felt like I did, that the whole world is at your feet. Have faith and you will see...
Thanks!!!
Fanta Dara Keita
Features
Pierre Gemme by HUR
HAND-MADE
Our craftsmen and craftswomen use non-ferrous metals like bronze, brass and copper to make handcrafted pieces.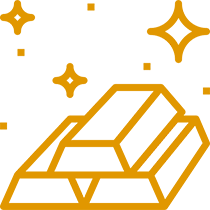 GOLD PLATED
Our jewelry is 22k gold plated and made with fine brass.
EVERY PIECE IS A STORY
Each piece tells a story. We create innovative designs, inspired by prominent female figures and moments of history.
WARRANTY
We offer 2 months warranty for any plating and breakage.
DONATE
We believe that every contribution counts to help those in need. We giveback a percentage of sales to non-profits and individuals, usually targeting women.
WOMAN-2-WOMAN
We are 100% women-led and sisterhood is our creed.