Ayesha Raza
What does inclusivity mean to you?
Inclusivity is a practice of including people who might otherwise be excluded or marginalized in our society. We grow up in societies which separates people who are differently-abled. The world we live in encourages a perception that individuals with disabilities are lesser humans than those without.
Meet Ayesha, who advocates for the celebration, not separation, of all people. Founder of Abey KHAO, a success story of differently abled young entrepreneurs.
Ayesha grew up in a family of five, who had a different level of hearing loss. Her father is deaf and mother and brothers have difficulty in hearing. They learned sign language at very early age. Ayesha's father managed to raise three kids and give them the quality education in spite of his disability. Disability is just a tag given by the society. For Ayesha and her family, disability was like a driving force that kept them moving towards success. They take their disability as a pride and not as hindrance against progress.
Abey KHAO is a fast food cafe in Islamabad. Abey KHAO! started in the form of a pushcart in July 2016. Together with her siblings, Ayesha took this initiative to empower deaf and hard of hearing communities because of the unemployment issues faced by them in Pakistan. They wanted to set an example for other businesses to lose their fear of hiring people with hearing loss. . The restaurant works exclusively with special people breaking the barrier of communication between the deaf and hearing.
It also encourages clients to learn sign language when they visit Ayesha wishes to create more employment opportunities for deaf and hard of hearing youth by expanding Abey KHAO! all over Pakistan. "It's not about selling food only rather it's more about changing the social perspective of communication between Deaf/HOH and Hearing Communities" Abey KHAO! is working towards a future in which youth with disabilities and children without are all allowed to learn and eat together, and to share the same humanity.
How do you work towards making your spaces inclusive?
Ayesha in Rani Roopmati Ring.
Features
Pierre Gemme by HUR
HAND-MADE
Our craftsmen and craftswomen use non-ferrous metals like bronze, brass and copper to make handcrafted pieces.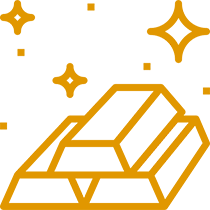 GOLD PLATED
Our jewelry is 22k gold plated and made with fine brass.
EVERY PIECE IS A STORY
Each piece tells a story. We create innovative designs, inspired by prominent female figures and moments of history.
WARRANTY
We offer 2 months warranty for any plating and breakage.
DONATE
We believe that every contribution counts to help those in need. We giveback a percentage of sales to non-profits and individuals, usually targeting women.
WOMAN-2-WOMAN
We are 100% women-led and sisterhood is our creed.