Features
Pierre Gemme by HUR
HAND-MADE
Our craftsmen and craftswomen use non-ferrous metals like bronze, brass and copper to make handcrafted pieces.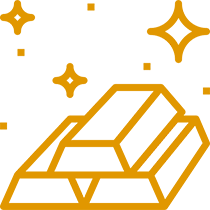 GOLD PLATED
Our jewelry is 22k gold plated and made with fine brass.
EVERY PIECE IS A STORY
Each piece tells a story. We create innovative designs, inspired by prominent female figures and moments of history.
WARRANTY
We offer 2 months warranty for any plating and breakage.
DONATE
We believe that every contribution counts to help those in need. We giveback a percentage of sales to non-profits and individuals, usually targeting women.
WOMAN-2-WOMAN
We are 100% women-led and sisterhood is our creed.